Curatrice: Victoria Dejaco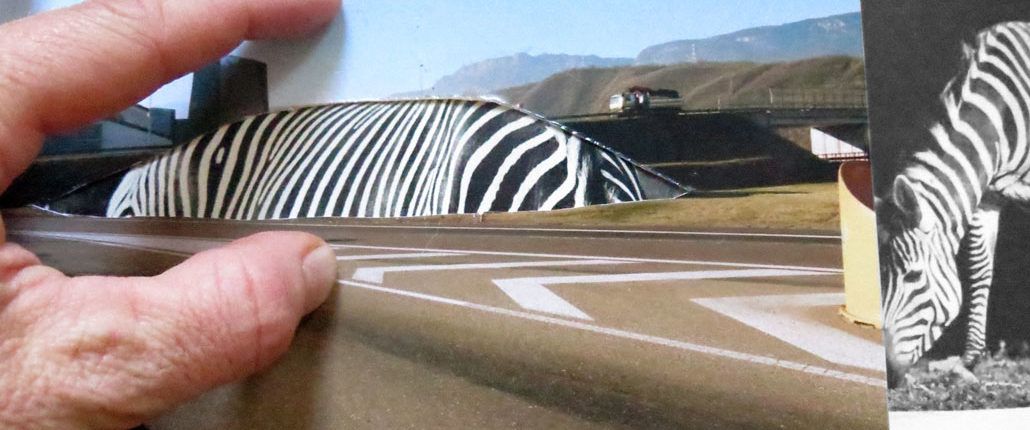 Inaugurazione: 28.10.2017 – ore 15
Luogo: Bunker Nr. 15, via Enrico Mattei, Bolzano
DICHIARAZIONE DELL'ARTISTA:
La collina che sorge proprio al centro del triangolo costituito dall'autostrada e dalle strade a percorrenza rapida a Bolzano Sud non lascia intuire nulla riguardo al bunker che vi si cela sotto. Erba e cespugli ricoprono l'intera superfi cie, mimetizzandolo perfettamente.
Nel mio ruolo di artista con un particolare sguardo verso le dimensioni politiche dei nostri spazi quotidiani sono stata invitata ad attirare l'attenzione sul bunker sotto alla collina, sfruttando la mia creatività. Il pensiero di mimetizzare a sua volta la collina, ovvero la natura, sembra, inizialmente assurdo. Una collina ricoperta di erba, che si camuff a. Un prolungamento dell'assurdità dell'oblio, quando si tratta di eredità storica, ovvero camuff are l'atto del dimenticare. In questo contesto la collina dovrà scomparire, o dissolversi, in tre fasi e in modi diversi. Ma sarà proprio questa mimetizzazione a donarle visibilità.
Nella prima forma, "dazzle", la collina viene scomposta nella sua unità, e, in base alla prospettiva ed alla luce, viene parzialmente traslata sull'ambiente circostante. A prescindere dall'eff etto ottico, i motivi che si creano ricordano la segnaletica del manto stradale – linee, che attraversano sistematicamente il paesaggio e che lo assorbono, oltre il loro aspetto puramente funzionale.
In una ulteriore forma la collina sarà adornata con un classico motivo camoufl age, che la dovrà mimetizzare trasformandola in "natura", e, nella terza fase, la collina sarà completamente "depixelata", come accade per i territori inaccessibili su Google Earth, come per esempio per le basi militari.
Testo & Foto: © Catrin Bolt
Communicato stampa:
(in lingua inglese) South Tirol has over 450 bunkers, military defense constructions, pillboxes and fortified shelters from the Second World War, meant to defend Italy against Germany, its own allay at the time. This war was a dark time in the region's history and with hard consequences for the local population. Understandably, the public and authorities meet those constructions with holstered fascination and open rejection.
But to leave them to oblivion or erase them, any effort to get them out of sight also runs the danger of white washing history. We are faced with a similar dilemma as the South of the United States with their monuments to confederate soldiers.  There should be a way to remember the darkest moments in history without denying the facts but also without glorifying them. The way to do this is with context, education and critical reconditioning in order to generate awareness.
Curator Victoria Dejaco, who had been invited by the association Verein Kasematte Bunkerforum to contribute to the conversation, has attempted a first step in this direction. The site of Bunker 15 at Bozen Süd was chosen for a first intervention with artist Catrin Bolt in 2016. She had already realized memorials in Graz (2013) and Vienna (2014) in the context of the Jewish history of those cities during the Second World War and was predestined to take up the task. In 2015 she also won the Otto Maurer Prize, the most prestigious prize for young art in Austria.
The Bunker 15 in the South of Bolzano next to the highway A22 had been hidden under a hill of earth after in the 1990s during the construction of the MeBo. It is part of a system of several constructions meant to work together. Its twin building is freestanding and in tact only a few hundred meters to the East.
Matching the situation of the bunker, now hidden under earth, Catrin Bolt developed a project around the topic of hiding and camouflaging. The entire area will be covered in camouflage patterns in order to draw attention to the inconspicuous hill. The military form of disguise will hence be somewhat inverted in its function. It is planned to transform the hill three times in the course of the upcoming year. Once with an ordinary military camouflage, once with the dazzle effect, a pattern that deconstructs the object it aims to conceal and once with a camouflage of the tech era: the "pixel out" effect used on Google Maps to render (military) territory unrecognizable. This artwork in public space will be the most significant piece of Land Art ever to be realized in South Tirol to this day.
Victoria Dejaco
Graz, 22.10.2017
CATRIN BOLT
*nel 1979 a Friesach / Austria, vive e lavora a Vienna / Austria
Con il gentile sostegno di: