Camouflaged lawn (Tarnrasen)
curated by Victoria Dejaco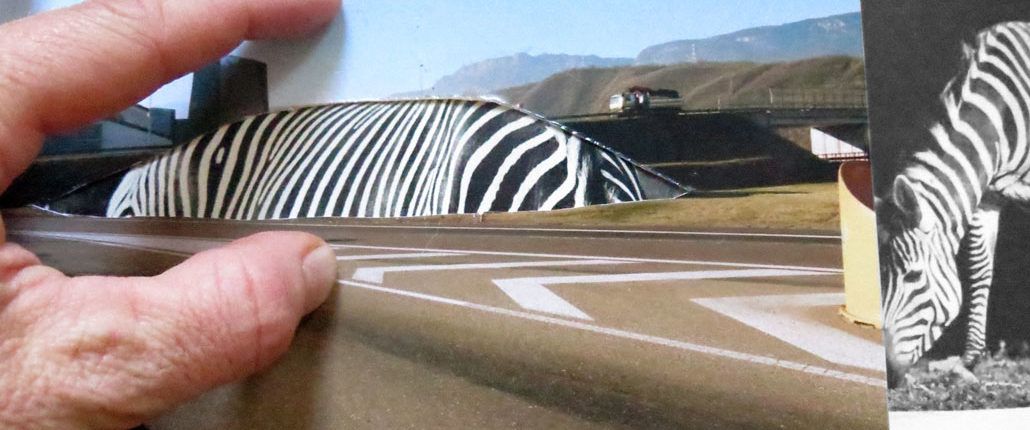 Inauguration: 28.10.2017 – 15 pm
Location: Bunker Nr. 15, Via Enrico Mattei, Bolzano
Foto & Text: © Catrin Bolt
Press release:
South Tirol has over 450 bunkers, military defense constructions, pillboxes and fortified shelters from the Second World War, meant to defend Italy against Germany, its own allay at the time. This war was a dark time in the region's history and with hard consequences for the local population. Understandably, the public and authorities meet those constructions with holstered fascination and open rejection.
But to leave them to oblivion or erase them, any effort to get them out of sight also runs the danger of white washing history. We are faced with a similar dilemma as the South of the United States with their monuments to confederate soldiers.  There should be a way to remember the darkest moments in history without denying the facts but also without glorifying them. The way to do this is with context, education and critical reconditioning in order to generate awareness.
Curator Victoria Dejaco, who had been invited by the association Verein Kasematte Bunkerforum to contribute to the conversation, has attempted a first step in this direction. The site of Bunker 15 at Bozen Süd was chosen for a first intervention with artist Catrin Bolt in 2016. She had already realized memorials in Graz (2013) and Vienna (2014) in the context of the Jewish history of those cities during the Second World War and was predestined to take up the task. In 2015 she also won the Otto Maurer Prize, the most prestigious prize for young art in Austria.
The Bunker 15 in the South of Bolzano next to the highway A22 had been hidden under a hill of earth after in the 1990s during the construction of the MeBo. It is part of a system of several constructions meant to work together. Its twin building is freestanding and in tact only a few hundred meters to the East.
Matching the situation of the bunker, now hidden under earth, Catrin Bolt developed a project around the topic of hiding and camouflaging. The entire area will be covered in camouflage patterns in order to draw attention to the inconspicuous hill. The military form of disguise will hence be somewhat inverted in its function. It is planned to transform the hill three times in the course of the upcoming year. Once with an ordinary military camouflage, once with the dazzle effect, a pattern that deconstructs the object it aims to conceal and once with a camouflage of the tech era: the "pixel out" effect used on Google Maps to render (military) territory unrecognizable. This artwork in public space will be the most significant piece of Land Art ever to be realized in South Tirol to this day.
Victoria Dejaco
Graz, 22.10.2017
CATRIN BOLT
born 1979 in Friesach / Austria, lives and works in Vienna / Austria.
With the kind support of: